09/05/2017-11/05/2017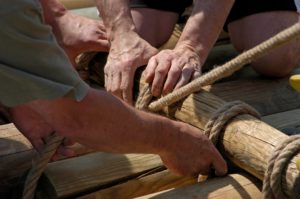 A long weekend in the "land of floaters" with guided tours, meetings related to the topic of environmental sustainability, even vegan dishes and exciting concerts.
From 19 years a volunteer group soul with enthusiasm the beating heart of Lot, piazza Filzi. With passion over the years, have been told the story of the ancient city: life on the river and the life of the River, looking to exploit the big and the small things of history.
The Palio delle zattere
Sunday, 11 June at 17:00
The heart of the event, the Palio delle Zattere takes place as follows: the rafts are 11, all alike, and on the afternoon of Saturday, June 10, will be assembled by the crews themselves. Each team consists of:
a damsel
a attraccatore
4 floaters, one of these is the head raft
The race starts from Banerji Isera and ends at Piazza Filzi bag, with mooring at Moia. During the descent of the river each crew will face many tests of skill and dexterity. The winner of the race will be the crew who will have played the course in the shortest time and with the least penalty charge. The prize will be the Palio, which is the banner which reproduces an ancient coat of arms of Borgo Sacco. At the end of the race, the crews participating in the Palio will parade in the parade with the Floaters Borgo Sacco Historians before the awards ceremony scheduled at 19:30 in piazza Filzi.
A lot of exhibitions
From Friday to Sunday, you can play in touring a photo exhibition and a collective landscape painting and trentino, a ceramic sculpture exhibition, an exhibition on company sleeve and an art workshop.
A Village … Good
What better time to take a break sitting in one of the most beautiful and welcoming of Rovereto? A stop before resuming with a visit to the "land of Floaters". There are many possibilities to discover the village through its corners, its streets and its delicious dishes (sweet and savory). The novelty of this edition is a court dedicated to vegan desserts!
Lots Green
Over the years a village and its river is committed to eco-sensitize society through a series of good practices. At a time of great crisis, world citizens are called upon more and more to become an active part of a general change in the economy sustainable, environmentally and socially. What? Taking part in sporting events, including meetings, discussions and tastings that take place during the three days of the event.
  Source: www.visitrovereto.it